The fine flavors produced by Kirishima Shuzo come from bonds between people and the cooperation they generate.
Times and technology may change, but the passion for offering the finest flavor remains the same.
A shochu's flavor is determined by the sweet potatoes used.

Working with local farmers to develop new sweet potato breeds and conduct educational seminars,
Kirishima Shuzo continues to focus on developing ingredients that produce the ideal flavors.

Our ability to continue to protect an unchanging quality and flavor comes from the support of local residents.

Sweet potatoes rich in delicacy and flavor

The Kogane-Sengan Sweet Potatoes of Southern Kyushu

Sweet potatoes quality is checked by hand.

Sweet potatoes are selected and cut entirely by hand.
Even the smallest blemishes are spotted and carefully removed to ensure
the flavor of the shochu is maintained.

Even as machines have become more capable,
the quality of our ingredients continues to be determined by human eyes and hands.

A founder's passion in every step.

Our goal is always to ensure that our shochu taste is great, every time.

While incorporating the latest innovative production methods, we use our senses to bring our ingredients to the peak of fermentation,
bringing human experience to the task of creating the finest shochu.

This is the passion of our founder, carried on unchanged for 100 years.

Blenders with an intimate knowledge of Honkaku Shochu flavor.

Unrefined shochu develops a variety of unique characteristics as it matures in the tank. To produce a consistent flavor by matching multiple types of unrefined shochu and water, the presence of blenders with an intimate knowledge of Honkaku Shochu flavor is essential.

Our second generation president, Junkichi Enatsu, was known as a master blender, able to spot one in a thousand differences in flavor.

Today, Kirishima Shuzo's blenders carry on his techniques and vision as they adjust the taste of our Honkaku Shochu.

Shipping is also a part of the shochu-making process.

Ensuring the safe delivery of delicious shochu to our customers is also a part of the shochu-making process.

Our bottling and shipping operations are carried out under the strictest quality controls.
A focus on the finest ingredients, incorporation of innovative production methods, and a flavor determined by our master blenders. The finished product that results is delivered to our customers, its flavor unchanged.

Shochu production is only the beginning.

Making truly delicious shochu depends on a rich climate to nurture the finest-tasting ingredients.

The goal of our recycling, power generation and environmental preservation activities is to ensure that our business is part of a cycle in harmony with nature.

As each of us engages in producing Kirishima Shuzo's shochu,
we remain conscious of the need to reduce our environmental impact and protect our local climate and culture.

Our customers have a role in shochu-making, too.

The craftsmen of Kirishima Shuzo are not alone in determining the flavor of our shochu.
The ultimate judges of how good our shochu tastes are those who drink it—our customers.

By focusing on the quality of each glass of shochu we deliver into the customers' hands,
by maintaining their trust in our flavor, we build a level of quality we can be proud of anywhere.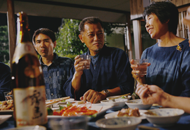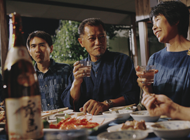 The People