On our factory tours, visitors can see for themselves how Kirishima Shuzo combines traditional techniques with the latest equipment to craft the finest Honkaku Shochu.
Factory Tours
Our expanded Shibita Factory integrates time-honored traditional methods with cutting-edge equipment. The factory offers guided tours where visitors can view the process behind the manufacture of our Honkaku Shochu, including Shiro Kirishima and Kuro Kirishima. We look forward to welcoming you on our tour!
The expanded Shibita Factory was created out of our desire to allow even more people to enjoy our Honkaku Shochu while learning more about how shochu is made. We hope you will enjoy seeing for yourselves the story behind the creation of our finest Honkaku Shochu.
About Our Factory Tours
Availability

Daily

(Please note that tours may be temporarily suspended at times.)
Hours

Twice a day, from 11 a.m. and 1:30 p.m.

Tour length: Approx. 30 minutes

(Please inquire if you represent a tour company.)
Size

From 1 to 40 participants

(Please inquire if your group is larger than 40 people)
Description

A tour of the shochu manufacturing process

(The guide is only available in Japanese.)

(Factory Tour pamphlets are available in English, Chinese (simplified) and Korean.)

(Videos may be used to explain each process in the event of plant maintenance or when the factory is not operating.)

(Does not include the bottling process.)
Tour Fee

Free
How to Participate

Please gather at the Kirinokura Brewery store at least 10 minutes prior to the start of the tour. A maximum of 40 people will be accepted for each tour. Tour sign-up will be closed once that number is reached.

(Reservations accepted on first-come, first-served basis. Please note that we may not always be able to accommodate your request.)

(Wheelchairs available free of charge. Request as needed when making your reservation.)
Directions

Please click here for directions

Free parking available for up to 200 vehicles.

(Parking may not be available during special events.)
Requests to Visitors

・Tastings will not be offered to underage visitors or to those driving.

・We ask that women who are pregnant or nursing refrain from tastings.

・Please refrain from bringing pets (exceptions are made for assistance dogs).

・Please refrain from any photography within the factory.
Directions
Arriving by bus or car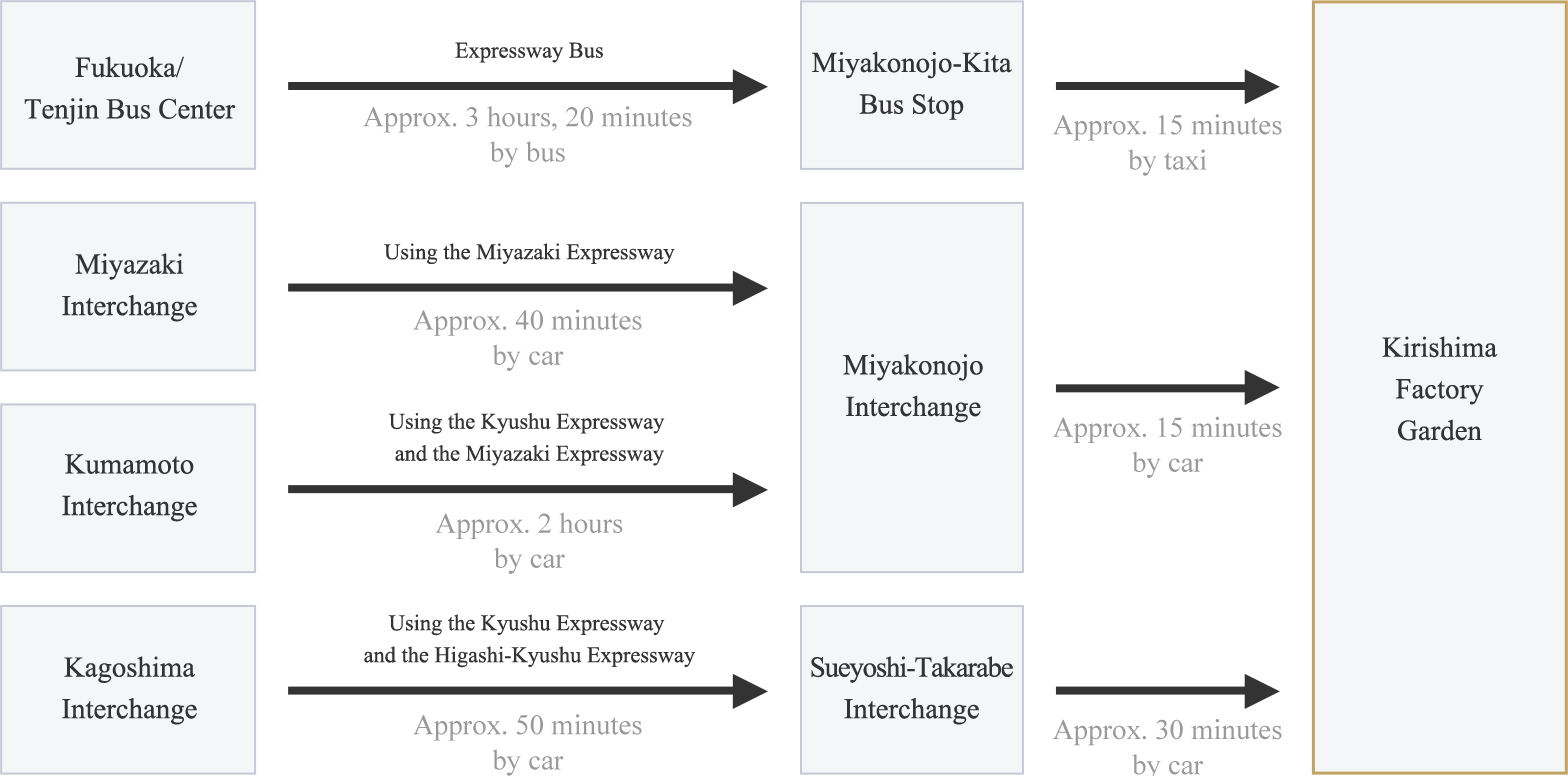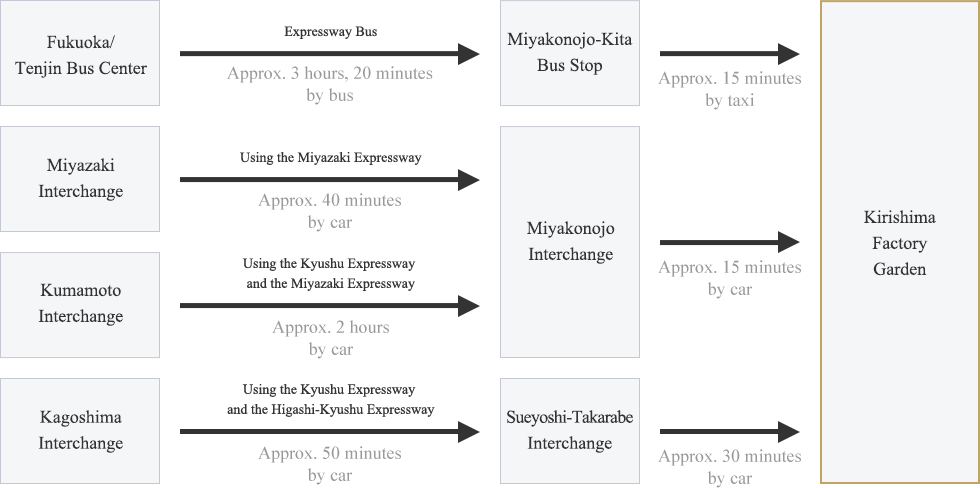 *Our main factory is located along National Route 10. The Kirishima Factory Garden is about another five minutes from there by car.
Arriving by train
Arriving by Air
Kirishima Factory Garden
Kirinokura Brewery
5480 Shibitacho, Miyakonojo, Miyazaki Prefecture
885-8588,JAPAN